Today we're excited to announce that the Route by Postcode feature of Enfonica Flow is out of beta!
If you operate a business with multiple locations and have a centralized phone number, chances are you've experienced difficulty routing customer calls to their closest store. Or, if you already use postcode prompting from another vendor, we're very certain you've experienced the frustration of the system being a black box, where you have absolutely no control over it.
Route by Postcode by Enfonica solves this problem by putting a flexible and easy-to-use postcode prompter in your hands.
Show me the light
It's no secret that postcode prompting isn't new. Some vendors have offered it for years, but as I mentioned before, these offerings are black boxes. What's the worst that could happen with a black box?
We've heard horror stories from customers. In one case, a customer's vendor applied a change incorrectly which led to a sizeable claim from a franchisee that missed all their calls. In another case, stores that had closed or moved were still configured and calls were disappearing into the ether.
It's not easy to manage something when you have no visibility, which is why we've created Route by Postcode.
Tell me about it
Route by Postcode is available as a feature inside Enfonica Flow and is available to all Enfonica customers. Route by Postcode give callers the option to enter a postcode to find the nearest locations to them.
Route by Postcode offers features including:
Add or import locations. Easily add or import your store locations from CSV.
Customizable auto-mapping. Automatically map postcodes to one or more locations based on flexible mapping rules.
Manual mapping. Override auto-mapping on specific postcodes to support requirements such as franchisee postcode allocations.
Multiple locations per postcode. Postcodes can be mapped to multiple locations, and Route by Postcode will provide the caller with a prompt to select their desired location from the list.
Design first, record later. By default, all prompts are generated with human-like text-to-speech synthesis. We think the quality of synthesis is so good that you can use it for production use cases. Flow also allows you to substitute professionally recorded audio clips using the Text-to-speech mapping feature.
Here's a preview of the editor which allows you to manage locations, postcodes and auto-mapping options.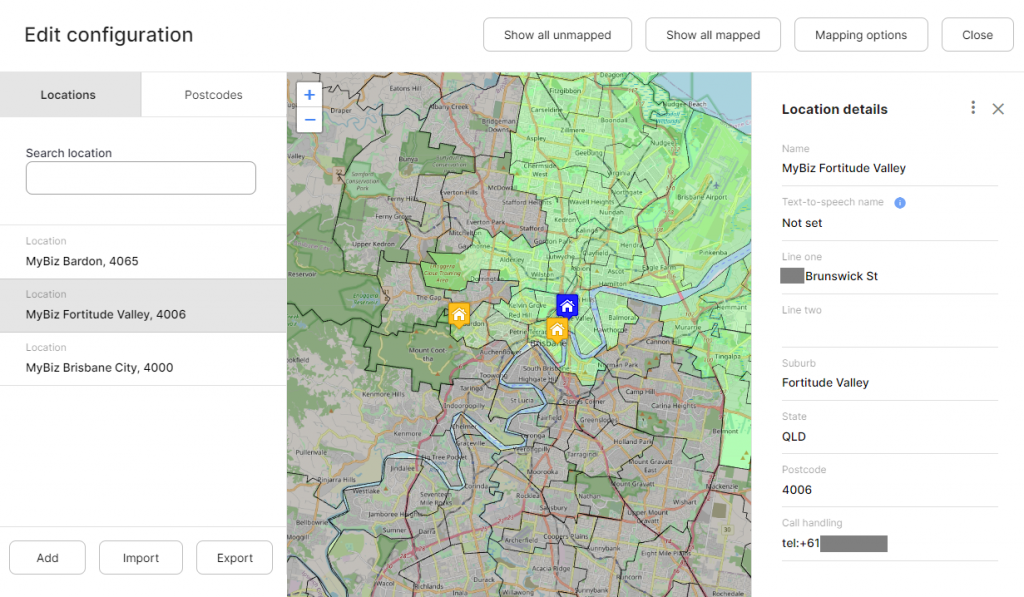 Give it a try
If you're an existing Enfonica customer, Route by Postcode is available in Flow right now.
If you'd like to talk to us about setting up postcode prompting for your business, or migrating an existing postcode prompter on your toll-free or 1300 number from another vendor, then please get in touch.
At Enfonica we believe that better communication can make the world a better place. We hope this feature will take us one small step in that direction.